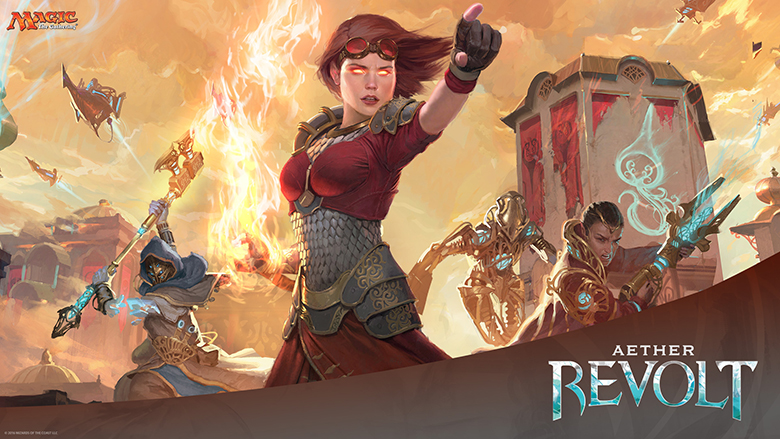 Aether Revolt
People of Kaladesh, it is time to rise up. We've seen the Consulate's "progress" and their "promises."

Inspectors on every corner and surveillance thopters peeking in our windows. Aether diverted from poor neighborhoods to fuel undisclosed programs. Thousands of inventions stolen from their creators. Peaceful automatons morphing into military enforcers. The moment Grand Consul Tezzeret installed his policies was the moment we lost our freedom. We will take it back.

Stand with us on the barricades. Make the Consuls listen to the truth. Stay safe, stay aware, stay true. Help us create the world you want to live in. Make Ghirapur our city again!

© 1993-2017 Wizards of the Coast LLC, a subsidiary of Hasbro, Inc. All Rights Reserved.
latest news
20
Sep
We also know that there are a few pages that still have some gobbledygook pseudo-latin on them where we haven't yet had the chance to finish editing the template text with our content.
19
Sep
We are aware that there are issue with the Contacts page - specifically the Google map plugin is not loading and the contact form is not working. If you find anything else let us know by - play@TheGamesClub.org.
18
Sep
There are likely to be a small number of elements on the website that we know are not working quite as they should do. But, we thought, as the site is so much nicer we'd go live and still work on the code.
12
Sep
After many, many, many years (way too many in fact) of the old website, the amateur behind The Games Club website has finally gotten around to working on producing a new site and here it is...
testimonials
"
I knew how to Draft before I visited The Games Club, but it was there that I learned how to win, and had a [damned] good time doing it.



"
Welcome to the heart of London for all that's good and shiny and new and old . . .
["The Games Club I think it's the best place in London to play"] I think that's probably true.
It's a great venue.
"
Elit nec porttitor convallis, tellus augue laoreet lacus, nec lacinia enim dolor eget odioaec enas interdum ipsum nec dolor porttitor, quis interdum magna lacinia. Vestibulum id


Maritimas Magus UK